iSMY System
The new frontier of the Onboard Domotic System.
From the experience of Yachtica® comes iSMY, the first lighting control module for yachts with fully programmable multi-function outputs.
Through iSMY becomes possible to build a system that meets all the needs of lighting control and handling management of cabins and rooms aboard the yachts. The specific use and management of the APP make it a unique, versatile and innovative product.
TECH APP – For Installers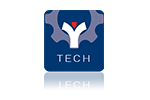 USER APP – For Owners